MA in Practical Theology & Ministry
We are excited to announce that we have designed a new MA in Practical Theology & Ministry.
This MA degree will provide an experience of postgraduate level practical theology that is informed, relevant and inspirational.
Programme Overview
This programme focuses on the ministry of individuals and communities within contemporary society. Rooted in academic practical theology, and in dialogue with the social sciences, it integrates reflective professional practice within Christian spirituality. It exemplifies research and practice-led teaching for ministry, which is a distinctive feature of LST's educational mission.
LST is evangelical and interdenominational in ethos and this programme invites evangelical theology to be in conversation with the broader tradition of the Christian church. The programme allows students to engage with a range of perspectives within academic practical theology and seeks to enable deep theological reflection, whether in an explicitly church-based context or in charity or secular professional settings.
Programme Structure
The MA in Practical Theology & Ministry has three core modules and three optional modules.
Modules are delivered in a flexible Online/On-campus mode where students are free to engage in either or both modes during the same enrollment. Modules can be taken fully Online and asynchronously, or with live seminars (via video-conferencing), or in timetabled On-campus classes supported by the VLE content. Delivery options will run according to demand.  Students will be asked to make their choice of optional modules/mode during the previous academic year/before enrollment.  If we have insufficient numbers of students interested in an optional module/mode of study, or there are staffing changes which affect the teaching, it may not be offered. If an optional module/mode of study will not run, we will advise students after the module selection period when numbers are confirmed, and help students choose an alternative module/mode of study.
The MA Practical Theology & Ministry (180 credits) includes the first core module on Practical Theology and Reflective Practice (40 credits), which is central to the whole programme.
It provides an essential grounding in the literature in the field. The second core module on Dissertation Research and Design (20 credits) is included as compulsory, as well as the Dissertation (60 credits), where the student can select a particular topic for study in significant depth.
Optional Modules
Three further optional modules (each 20 credits) are chosen by the student according to their interest.
Term 1
Education in Context
Leadership and the Public Square
Empirical Research Methods
Term 2
Pastoral Psychology
Ministry in Context
Empirical Research Methods
Spirituality in Ministry
Practicum
There is some with some interchangeability within our suite of three MA programmes– allowing at least one module to be selected from a different MA.
Who is this Programme for?
This programme is ideally suited for:
(1) Existing church leaders looking to develop a theologically-informed practice of ministry
(2) Graduate students in theology and religion wanting to spend a year or more preparing for Christian ministry.
(3) Graduate students looking to acquire a secure foundation in academic practical theology as preparation for research degree level study (MPhil/PhD).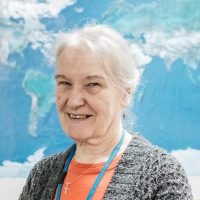 Postgraduate Admissions
Doreen Rosser