For many years, Beracahmusic Ministries International (BMI) have been involved in bringing nations together in worship as well as resourcing these very nations with tools for worship. These tools include the recording of albums, workshops, equipment and developing strong relationships beyond the ministry.
In the month of October, 2020, one of our music lecturers, Steve Thompson, received a call from Integrity Music, commissioning him to produce a 'Lion King' type arrangement of 'What a beautiful name/Imela' a medley of two well-known songs.
'Whenever I receive calls and commissioning such as this type of arrangement, Velveta and I immediately pray together asking God for inspiration and an appropriate musical direction that will honour the 'people of the land' and honour God in His incredible conception of Kingdom. The Experience is an annual event held at Tafawa Balewa Square in Nigeria, Lagos. An event where the attendants can pray and worship God together, regardless of tribe, denomination, creed or language. Because of the COVID-19 challenge which included the sensitivity of many people gathering in one place, safety protocols and the normal social distancing, the organisers opted for a virtual concert.' says Steve.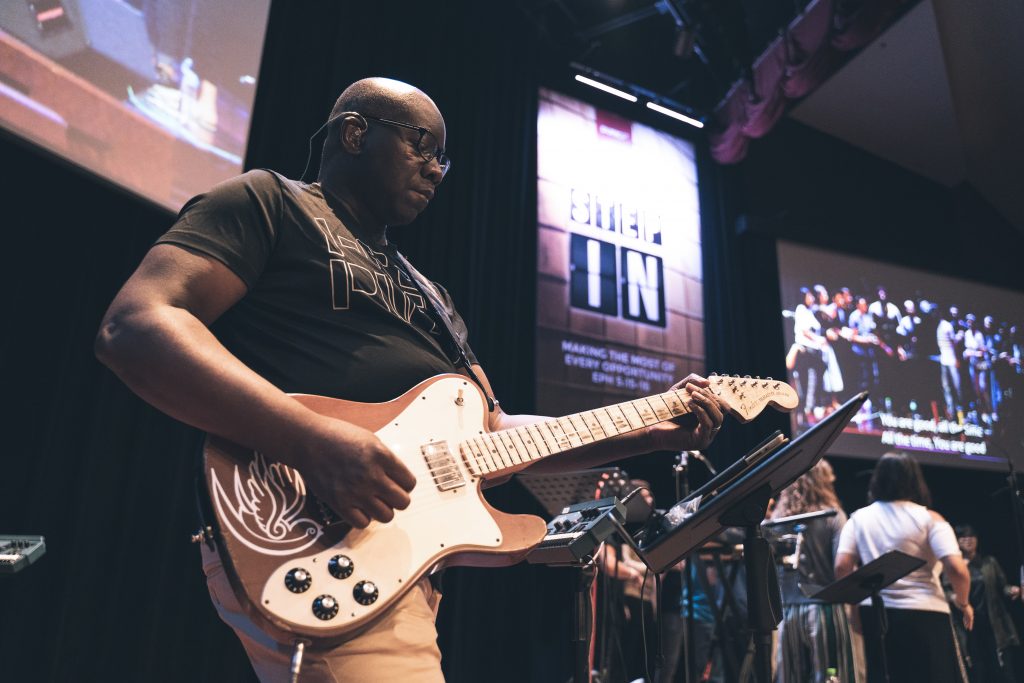 Steve Thompson playing with the LST choir in Malaysia.
'The last event gathered over 800,000 people with millions watching online from many countries around the globe.  This year the huge artist's list included award-winning and renowned indigenous and international gospel artistes such as Don Moen, Nathaniel Bassey, Travis Greene, Sinach, Planetshakers, Tope Alabi, Eben, Chevelle Franklyn, William McDowell, Onos, Australia's Hillsong United, Tasha Cobbs Leonard and Maverick City from the USA, The Cape Town Philharmonic Choir from South Africa; Sheldon Bangera from India, Matt Redman from the United Kingdom and Sidney Mohede from Indonesia.' So, no pressure at all!
'However, after praying about the commissioning and discussions with our good friend and Executive Producer, Les Moir, I immediately started preproduction and arrangements. It was quite amazing how quickly the ideas began to form and shape in my mind. The arrangement was completed in less than a week. I then felt the prompting to contact several friends in various countries including South Africa, Nigeria Taiwan, Jamaica, Jakarta, etc.
The entire remote recording was done via our beloved 'Zoom'. Except, one session where I met with some incredible friends, a few who sang at Prince Harry and Megan's wedding. I have worked on a previous recording for Graham Kendrick with these individuals.'
'It has been an awesome privilege working on what has now been called the 'The Global Symphony' bringing together multiple nations to praise our Jesus. In the midst of… indeed, we raised a hallelujah.'