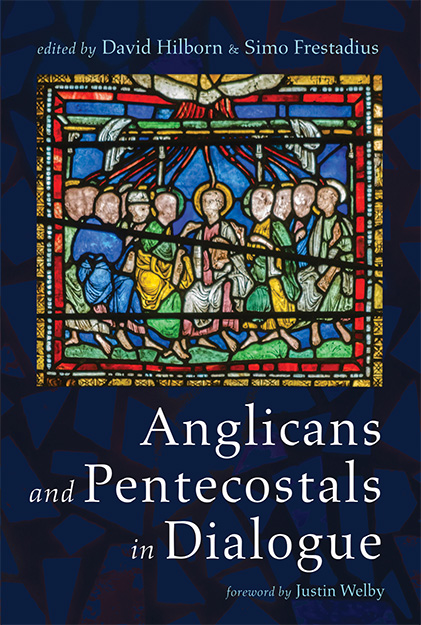 London School of Theology Academic Dean, the Revd Doctor David Hilborn, has co-edited a new book, Anglicans and Pentecostals in Dialogue, which has just been published by Pickwick—an imprint of Wipf & Stock.  This is the first book-length study of Anglican and Pentecostal ecumenical relations—one that examines a wide range of subjects under that heading.
The book compares and contrasts Anglican and Pentecostal approaches to ecumenism before exploring sacraments, ministry, ecclesiology, pneumatology, and mission as understood in both traditions. As well as providing substantive theological and historical discussion, the book also offers more personal accounts of local, national, and international ecumenical engagement by Anglicans and Pentecostals. It is written predominantly from a British perspective, but also features contributors from North America, Africa and beyond. Indeed, as the first major published dialogue between these two significant global Christian communities, the book will be of value to all interested in Anglicanism, Pentecostalism, and ecumenism.
Anglicans and Pentecostals in Dialogue is a multi-author collection with contributions by 20+ Anglican and Pentecostal scholars and leaders, including the Archbishop of Canterbury, the Rt Revd Justin Welby, the current LST Principal Revd Professor Mark J. Cartledge, and former LST Academic Dean Dr William Atkinson. David co-edited it with the Pentecostal scholar Simo Frestadius, Director of Research at the Elim Pentecostal theological college, Regents, West Malvern. They jointly authored the Introduction, while David also wrote a chapter of his own, about ordination. In that chapter he compares the historic 'three-fold order' of bishops, priests/presbyters and deacons maintained in the Anglican tradition with more eclectic patterns of leadership and ministry pursued in Pentecostalism, and traces what each might gain from the other.
Paul Avis, Anglican theologian and editor-in-chief of the leading academic journal, Ecclesiology, has warmly commended the book:  'In theological dialogue between two church families', he writes, 'the moment often comes when each can clearly see the body of Christ in the other. This was the experience of Anglicans and Pentecostals in the historic dialogue whose fruits are set forth in this valuable volume. These sets of paired essays by Pentecostal and Anglican authors will help to spread this moment of recognition more widely and provide a unique resource for national and local groups to take up the challenge and privilege of conversation and cooperation.' Mel Robeck, renowned Pentecostal scholar and Senior Professor of Church History and Ecumenics at Fuller Theological Seminary, has also enthusiastically welcomed the book, recommending it 'to all who care about the unity of the church for the sake of Christ's mission.'
For further information about the book, please see:
https://wipfandstock.com/9781666735734/anglicans-and-pentecostals-in-dialogue/