Our next Faith Seeking Understanding church training day is on Saturday 11 November 2023: 'The Woven Threads of Discipleship: Theology, History and Practice'.
Members of our faculty and pastoral team will be bringing their expert knowledge and experience as we look at this important subject for the church.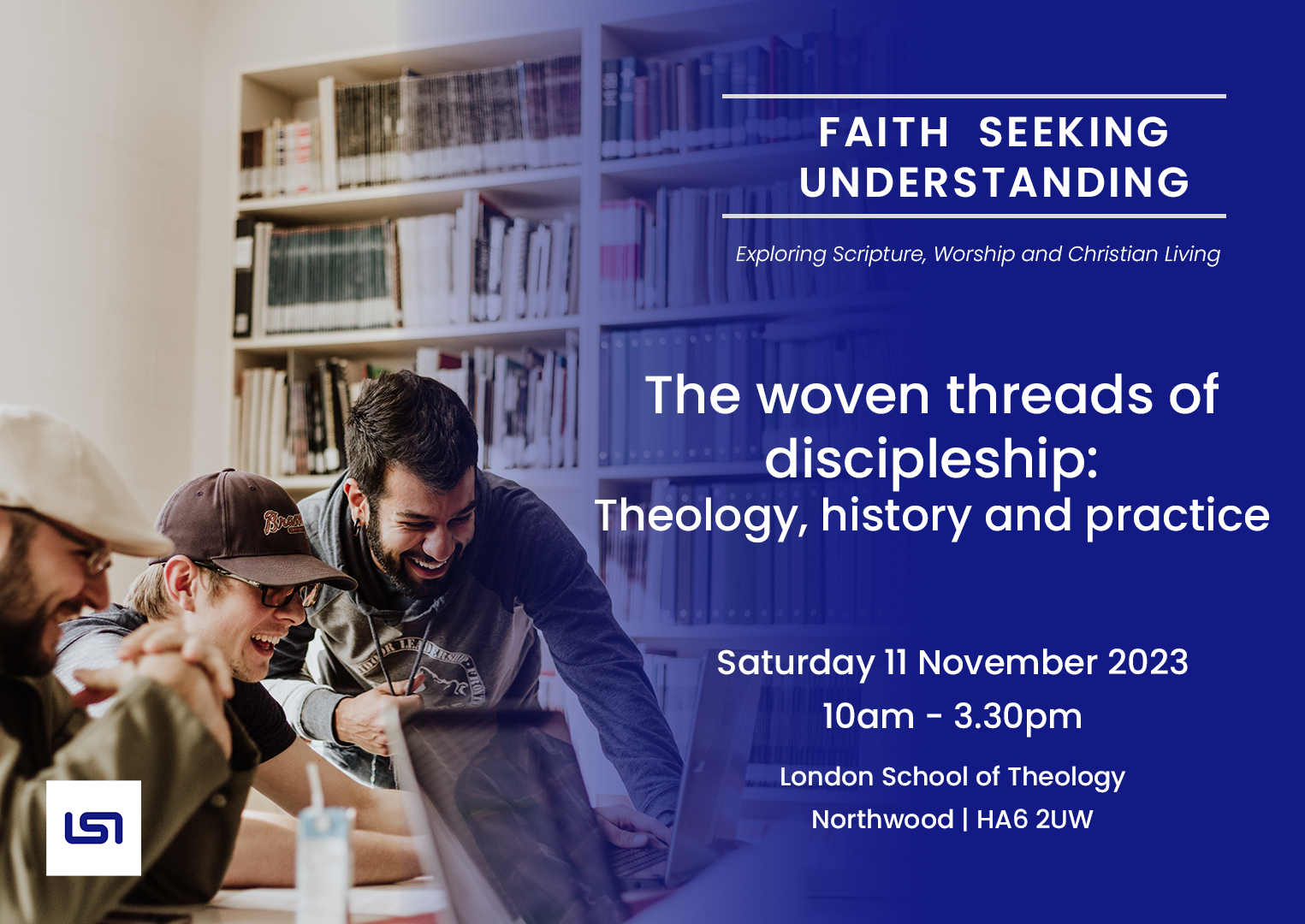 The Woven Threads of Discipleship: Theology, History and Practice
What does it mean to be a disciple of Jesus Christ? And why does it matter that we as Christians understand all the woven threads of discipleship?
For anyone interested in growing as a disciple of Christ (hopefully all of us!), or wanting to know how we can better disciple those under our care, then this is a not-to-be-missed training day, which comes under our Faith, Seeking, Understanding series.
We'll be meeting at our Northwood Campus (online tickets are available for those who cannot attend in person), on Saturday 11 November 2023 (10am to 3.30pm).
Perfect for church leaders, Bible study groups, and anyone wanting to keep moving forward in their journey of faith, we will have something for everyone. The day is designed to look at a Scriptural view of discipleship, discipleship through Church history, and then move into a more practical view of how we can improve as a Church in our discipling of nations. The day is set to be interactive and hands-on, with plenty of opportunities for you to practise what you've learned and get feedback from your peers.
At just £10 per head onsite, and £8 online, we believe it's an accessible way to bless your church. Book your place today – spaces limited.
About Faith Seeking Understanding
A three-year curriculum will take you on a journey of discovery – introducing you to the delights of biblical studies; Christian doctrine and history; theology & worship, along with reflections on how to put what you learn into practise.  Please click here to view the curriculum.
The training days are for any Christian who wants to grow in their faith.  Taught by world-class scholars, in a practical and accessible way, there are three training Saturdays (10:00-15.30) through the year, which people can attend in-person or online.
The programme is ideally suited for home or cell groups to attend together so that you can use breakout groups to discuss how to apply what you're learning in your own specific context.  Whether you attend in person (if within striking distance of our Northwood campus) or online from anywhere in the world, FSU will transform your thinking – both as an individual Christian and as a church.
Here's what participants from last year's events said:
"Really engaging, great speakers & worship.  Feeling Inspired. Astounding! Refreshing, enlivening!"
"Fantastic – I'm so grateful it has really strengthened my faith."
"Truly mind-blowing – I hung onto every word that was said."
"Faith Seeking Understanding at LST is a fantastic opportunity to take a deep dive into the Bible and the complexity, mystery and beauty of God's word, under the guidance of experienced and Spirit- filled teachers. I would highly recommend it to both those who have a hunger to delve into theology and those who are considering dipping their toe in for the first time."
How to get to LST
Directions: If you are using a SatNav please use our postcode: HA6 2UW.  If you are on foot from the tube station: turn left out of the tube station and keep going down Green Lane, nearly to the Rickmansworth Road: we're on the right hand side, clearly signed.
Parking: there's plenty of onsite parking
Refreshments
Tea and coffee will be provided with a slice of (very yummy) cake but you will need to provide your own lunch: either a packed lunch or nip to Waitrose/Costa in the lunch break (both located near the tube station).