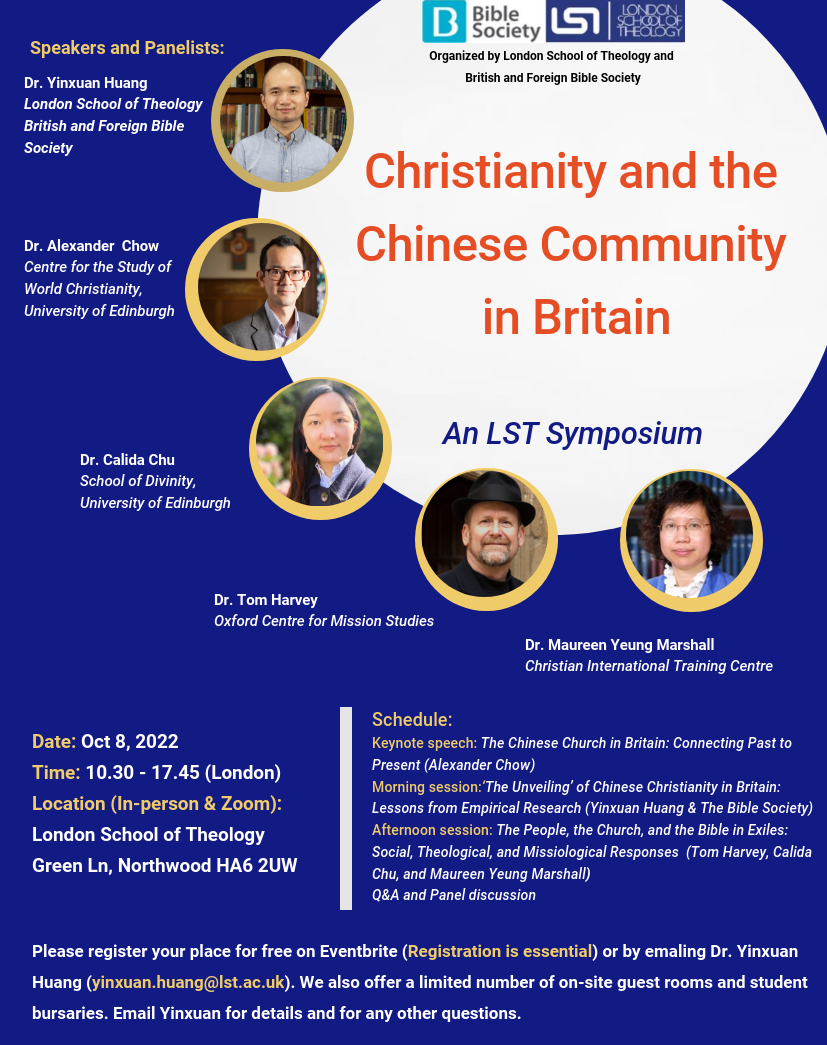 The Chinese Christian community is the fastest growing Christian population in Britain, though its history and its implications have been largely neglected by both social scientists and theologians. In 2021 London School of Theology and the British and Foreign Bible Society, jointly initiated the Bible and the Chinese Community in Britain (BCCB) research project.
The BCCB is the first systematic study of Chinese Christianity in Britain and aims to establish a comprehensive understanding of the state of engagement amongst Chinese people in Britain and the impact of the Bible on their lives.
In the light of the BCCB's vision, this symposium invites scholars, researchers, clergy, and students to foster fresh conversations on the issue of Chinese Christianity in Britain. The symposium will include the release of key findings from the BCCB. It will be a forum for exchanging ideas from an array of disciplinary perspectives and topics, from accounts of empirical analysis to theological discourses, and from political unrest in Hong Kong and China to Confucianism and Christianity.
Schedule
Keynote Speech: The Implication of Chinese Diaspora: Connecting Past to Present (Alexander Chow)
Morning session: 'The Unveiling' of Chinese Christianity in Britain: Lesson from Empirical Research (Yinxuan Huang & The Bible Society)
Afternoon session: The People, the Church and the Bible in Exiles: Hong Kong, China and Missiological Responses (Tom Harvey, Calida Chu, and Maureen Yeung Marshall). Q&A and Panel discussion
Further Information
We also offer a limited number of on-site guest rooms and student bursaries. Email yinxuan.huang@lst.ac.uk for details and any other questions.